Delhi boys enter finals in dramatic fashion
It proved to be 60 seconds too long for the Tamil Nadu boys in their semifinal match against Delhi. The two evenly matched teams from opposite groups went head to head for the first time in the 64th Junior National Basketball Championship underway in Cuttack, Odisha. With ten lead changes and scores getting tied seven times, it was anybody's game for most part. That is, of course, until that one fateful minute in the fourth quarter. After repeatedly drawing within one point of Delhi, the boys from down south committed hara-kiri on both ends of the floor in the penultimate minute of the game.
"We made a lot of mistakes down the stretch", rued Tamil Nadu's Coach S S Nisar. The seasoned Delhi side, featuring five players who have represented India internationally, took full advantage of TN's mental lapses to score a brisk ten points to win, 92-75. "Their main players were on four fouls. So we took advantage of that by driving in against them knowing that they wouldn't guard us very tightly as they couldn't risk getting fouled out," Delhi Coach Rajesh Kumar on the main reasons for his team's win.
Standing out amidst all the quality players on the Delhi side was their backcourt duo of Narendar (no. 10) and Sohal Abhijeet Singh (no. 12). Narender is 5ft 7'' and Sohal Singh is 5ft 9'', but despite their short stature, they have been consistently winning the backcourt duel with opposition guards. "Whenever I step on the court I know our team will win," said Narender who made some impossible layups in the third quarter that included a buzzer beater at the end of Q3. "We have been playing together for three years, so we have that co-ordination between us," explained Sohal, who muscled his way to a game high 37 points, many of them coming from free throws.
The Poonam juggernaut continues
Earlier in the day, Chhattisgarh girls, led by their conspicuous 6 ft 7 inch Centre Poonam Chaturvedi snuffed out any hopes that Tamil Nadu may have harboured of pulling off an unlikely win. Chhattisgarh had already comprehensively beaten Tamil Nadu earlier on in the league stage of this Championship. Today, led by the mighty Poonam, Chhattisgarh turned it up another notch.
Poonam regularly scores more than half of her team's points. In this semifinal match against Tamil Nadu, Poonam came up with her highest score of the tournament with 67 points, bettering her previous mark of 63 against the same opponents. Her teammates did well to selflessly feed her the ball under the basket. Chhattisgarh will look to repeat the same unstoppable strategy in the finals when they face Kerala. In a late evening match, Kerala girls had overcome a stiff challenge by Maharashtra to book their spot in the Championship match.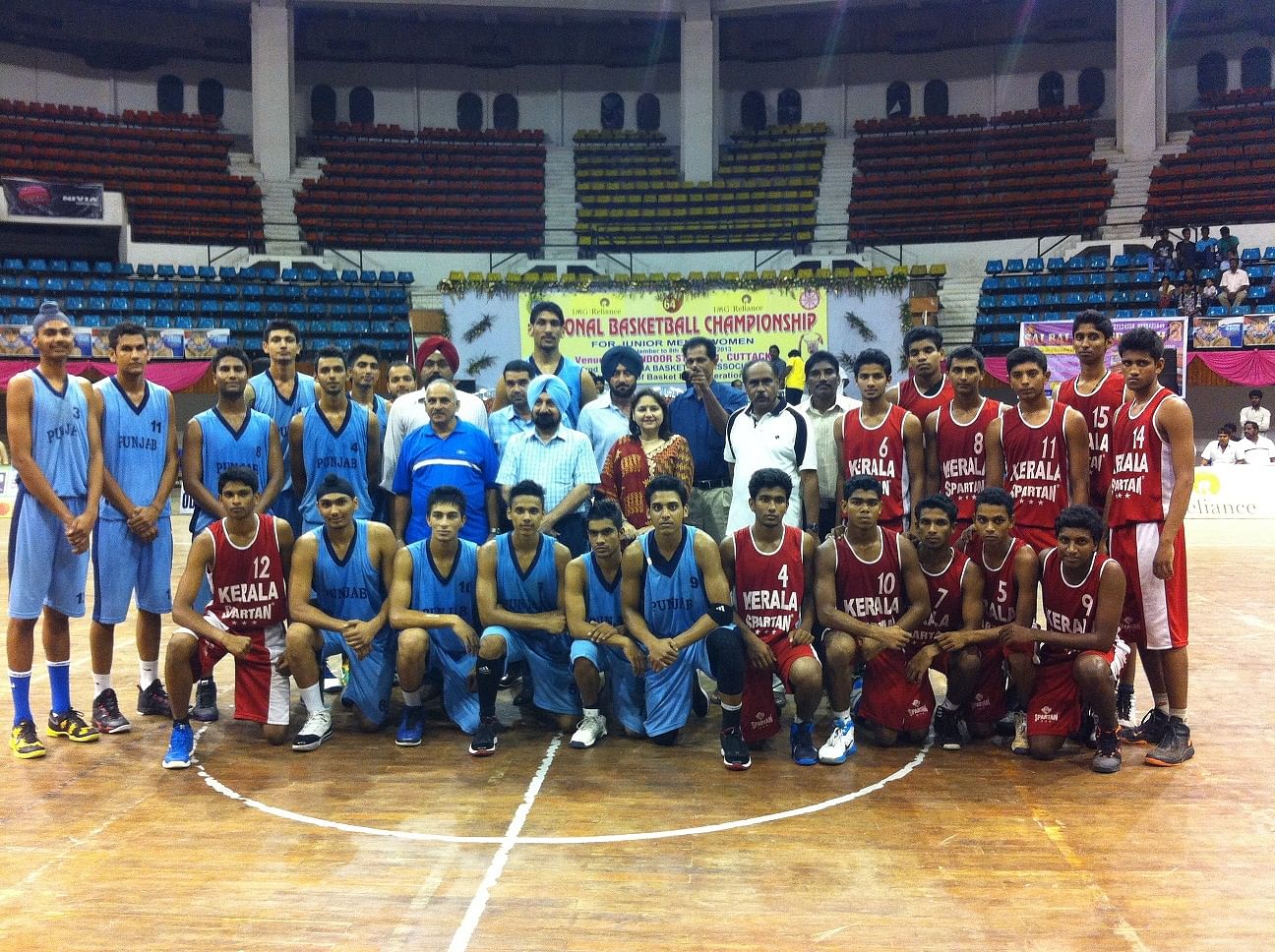 Playing with refreshing abandon against a Punjab side that features the imposing 7 footer Satnam Singh, Kerala pushed Punjab to the absolute brink. Coming into this game, Kerala had sworn not to go down without a fight. Fight they did, for the entire duration of the game. Their pestering defense made the otherwise secure Loveneet Singh turn the ball over multiple times. Punjab's 22 team turnovers translated into 26 Kerala points. Incredibly, Kerala also nearly equaled Punjab in points in the paint (34 to Punjab's 38). In the end, Punjab held on to a nerve wracking 4 point lead to take them through to the finals.
Apart from semifinal matches, classification matches for the 5th to 10th placed teams were also held at the Jawaharlal Nehru Indoor Stadium and Barabati Stadium Complex, Cuttack.
All the match results along with the upcoming schedule will be posted on the BFI website. Regular updates can also be viewed on BFI's Facebook and twitter pages.
Note: This article has been published with permission from the Basketball Federation of India. The original article, on the BFI website, can be accessed here.
Results of Matches held on 07th September 2013, (Saturday)
Level 1 Semi – Finals
BOYS
Punjab (Satnam Singh 26, Rajveer 20, Khushmeet 16, Loveneet Singh 10) bt Kerala (Sreerag 22, Akhil 14, Jishnu 13, Arun 10, Ajith 10) 80-75 [QT Scores: 25-20, 12-14, 17-18, 26-23]
Delhi (A. S. Sohal 37, Pardeep 17, Narendra 17, Gaurav 15) bt Tamil Nadu (S. Karthickeyan 23, P. Vijay 17, G.Anto Bethle 14) 92-75 [QT Scores: 22-18, 20-22, 18-15, 32-20]
GIRLS
 Kerala (Poojamol 30, Grima 22, Elizabeth 19) bt Maharashtra (Sruthi 24, Shireen 23, Ishwari 14, Krittika 14) 88-84 [QT Scores:17-20, 17-20, 29-18, 25-26]
Chhattisgarh (Poonam Chaturvedi 67, Kavita 16, Sangeeta 16) bt Tamil Nadu (R.Selvamithra 17, K. Rajlaxmi Devi 11, S.Pavithira 10) 110-79 [QT Scores: 29-18, 25-18, 36-23, 20-20]
Loser's Knockout Finals
(for level 2 teams that didn't qualify for the knockout stages of the main competition)
BOYS
Jharkhand (Gurwinder 20, Sukhdeep 10) bt Bihar (Dheeraj Ranjan 12, Rupesh Kumar 8) 50-31 [QT Scores: 14-9, 12-6, 10-12, 14-4]
GIRLS
Andhra Pradesh (M. Sreetha 23, A. Jammavi 6) bt Assam (Prinita 10, Mumtaz 7, R.Uma 6) 48-33 [QT Scores: 20-13, 15-6, 6-8, 7-6]
9th and 10th Place
BOYS
Haryana (Rahul 31, Naveen 25, Pardeep 22) bt Maharashtra (Pranav Wagle 17, Harshal Parab 9, Salman Shaikh 8) 88-64 [QT Scores: 23-17, 19-19, 15-15, 31-13]
GIRLS
Punjab (Nirmal Kaur 23, Kulwinder Kaur 20, Navdeep Kaur 12) bt Haryana (Suman Pannu 15, Savita Gadwal 13) 82-45 [QT Scores: 20-14, 22-8, 22-13, 18-10]
Classification for 5th, and 6th, 7th and 8th Place
BOYS
Madhya Pradesh (Brigey 21, Ashiv 10) bt Chhattisgarh (Sanjeev Kumar 13, Tarendra Kumar Yadav 11) 74-69 [QT Scores: 18-10, 19-18, 21-22, 16-19]
Karnataka (Sharath M. 25, Clinton 15, Gagan Reddy 8) bt Odisha (Amarajit Pandey 27, Firoj Barwa 14, Rudrakanta Sahou 8) 69-68 [QT Scores: 16-18, 15-14, 24-9, 14-27]
GIRLS
Rajasthan (Nish Sharma 17, Usha 16) bt Madhya Pradesh (Monal 13, Bharti 6) 65-40 [QT Scores: 17-9, 10-10, 19-9, 19-12]
Uttar Pradesh (Preeti Kumari 19, Niharika Verma 14, Barkha Sonkar 11) bt Karnataka (Ashwariya 7, Supriya 6) 64-36 [QT Scores: 19-12, 26-7, 10-6, 9-11]