The Odisha boys' team has been a revelation of sorts in the 64th Junior National Basketball Championship currently underway in Cuttack.
Buoyed perhaps by playing at home, Odisha boys, after topping their lower pool, have qualified for the pre-quarterfinals by beating West Bengal 102-97.
A far tougher test awaits them in the pre-quarterfinals as they will now have to compete against a fourth placed team belonging to the elite upper pool.
The day was also made special by the presence of India's two senior most coaches, Scott Flemming (National men's head coach) and Spain's Francisco Garcia, the recently appointed National women's head coach.
Garcia, in particular was seen intently watching the girls' match between defending champion Chhattisgarh and Tamil Nadu. "We are looking for players with a combination of strong bodies and good skills. Kavita, the point guard of Chhattisgarh is capable of playing at the international level and of course Poonam (the 6ft 7 inch giant) can play internationally as well, provided we keep working on her conditioning and co-ordination."
Poonam, almost a foot taller than all the other girls participating in these nationals, ended up scoring a Michael Jordan-esque 63 points to lead Chhattisgarh to a 98-67 win.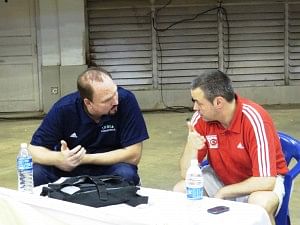 In other matches, the traditionally strong boys' teams from Tamil Nadu, Delhi and Punjab too posted wins.
The girls from Kerala also won their final league game with little fuss against the host team from Odisha.
The final score of 59-9 underlined the gulf between teams from Kerala and those from other Indian states.
Later in the day, Maharashtra girls won their second league match in a row by beating Punjab 77-43.
Chhattisgarh boys suffer dual setbacks
As if losing their second league match to Kerala wasn't hard enough, defending champion Chhattisgarh also appeared to have lost the services of its lynchpin—point guard Sanjeev Kumar, who injured his back late in the fourth quarter.
Sanjeev is one of the eight promising young Indian players selected for training at the world class IMG Academy in Bradenton, Florida on a full scholarship offered by IMG-Reliance.
Over and above Sanjeev's injury, the Kerala boys have to be credited for showing composure down the stretch in maintaining a ten point lead for most of the second half.
"We had an extensive 21 day camp at an indoor stadium in Ernakulum, Kerala. This gave our players much needed confidence in playing in similar indoor conditions here at the Jawaharlal Nehru Indoor Stadium," elaborated Kerala Coach Thomas Chandy on his team's confident display.
Results of Matches played on 4th September 2013 (Wednesday)Boys1. Tamil Nadu (S. Karthickeyan 30, P. Vijay 20, G. Anto 13, M. Harish 12) bt Karnataka (Clinton 21, Jeethendar 15, Issac 14, Sharath M. 10) 92-81 [QT Scores: 22-19, 23-16, 15-22, 32-24]2. Delhi (Pankaj 22, Narendra 20, Pradeep 17) bt Maharashtra (Pranav 12, Salman 8, Sayed 8, Samson 7) 87-54 [QT Scores: 28-15, 30-13, 14-15, 15-11]3. Kerala (Akhil 24, Arun 14) bt Chhattisgarh (Sanjeev 11, Shiv Kumar 11, P.Rajesh 9) 62-51 [QT Scores: 17-14, 17-12, 15-13, 13-12]Girls

1. Uttar Pradesh (Preeti 33, Niharika 23, Barkha 16, Sakshi 10) bt Delhi (Soumya 22, Padmavathy 17, Monika 12, Surmai 10) 110-68 [QT Scores: 25-18, 30-13, 22-13, 33-24]

2. Chhattisgarh (Poonam Chaturvedi 63, Kavita A. 18) bt Tamil Nadu (R. Selvamitra 20, M. Keethi 19, P. Hemlatha 11, R. Niranjana 11) 98-67 [QT Scores: 16-15, 23-13, 29-20, 30-19]

3. Maharashtra (Kritika 24, Sruthi 13, Ishwari 11) bt Punjab (Nirmal 24, Kulwinder 10) 77-43 (22-8, 20-17, 14-9, 21-9)

4. Kerala (Vinaya 20, Aswathy 10, Prami 10) bt Odisha (Rajshree 9) 59-9 (19-3, 16-0, 13-2, 11-4)

Qualifying matches for Pre-quarterfinals (i.e. matches between the top 4 lower pool teams from which two teams qualify for the pre-quarterfinals)

Boys

1. Haryana (Pardeep 23, Naveen 18, Rahul 15) bt Uttar Pradesh (Himanshu 25, Abhyudaya 12) 89-68(16-13, 22-10, 23-20, 28-25)

2. Odisha (B.Tamsoy 27, F.Barwa 25) bt West Bengal (S.Joshi 54, S.Jaiswal 15) 102-97 (21-31, 16-19, 37-24, 28-23)

Girls

1. Rajasthan (Usha Chouhan 23, Anita Meena 10, Mamta Gurjar 8) bt Chandigarh (Amrinder 12, Akshita 10, Kirti 6) 71-44 (23-13, 17-4, 12-11, 19-16)

2. Karnataka (Lavanya B. P. 6, Aishwarya Mohan 6, Babay Bat MV 6) bt West Bengal 42-7 (23-3, 7-2, 8-0, 4-2)

Loser Knockout (Quarter Finals) (i.e. a separate series of matches being played between all the lower pool teams that have already been eliminated from the main draw)

Girls

1. Gujarat (Tulika Bisht 19, Turisha Bhagat 4, Jasmine Panesar 4, Neerjari Patel 4) bt Jharkhand (M. Barla 6, K. Kumari 5, J.Barla 3) 33-17 (6-5, 10-0, 8-6, 9-6)

2. Himachal Pradesh (A. Rathour 8, M. Saikhawat 6) bt Bihar 28-4 (12-4, 4-0, 6-0, 6-0)
Schedule for 05-09-2013
Court – 1
No
Team "A"
Vs
Team "B"
Group
Timing
Result
75
Tamil Nadu
Vs
Haryana
GA
07.00 AM
76
Maharashtra
Vs
Madhya Pradesh
GB
08.30AM
77
Punjab
Vs
Odisha
GB
10.00AM
78
Delhi
Vs
Kerala
BA
11.30AM
79
Punjab
Vs
Andhra Pradesh
BB
01.00 PM
80
Delhi
Vs
Chhattishgarh
GA
02.30 PM
81
Chhattishgarh
Vs
Rajasthan
BA
04.00 PM
82
Madhya Pradesh
Vs
Karnataka
BB
05.30 PM
Court – 2
No
Team "A"
Vs
Team "B"
Group
Timing
Result
QUALIFYING MATCHES
83
Rajasthan
Vs
Karnataka
Girls
07.00 AM
No
Team "A"
Vs
Team "B"
Group
Timing
Result

L.K.O Semi-Finals

84
Himachal Pradesh
Vs
Assam
Girls
08.30 AM
85
Bihar
Vs
W/O Uttrakhand Vs. J & K
Boys
10.00 AM
Court – 3
No
Team "A"
Vs
Team "B"
Group
Timing
Result
QUALIFYING MATCHES
86
Odisha
Vs
Haryana
Boys
07.00 AM
No
Team "A"
Vs
Team "B"
Group
Timing
Result

L.K.O Semi-Finals

87
Gujarat
Vs
W/O A.P / Pondicherry
Girls
08.30 AM
88
Jharkhand
Vs
W/O Assam / Chandigarh
Boys
10.00 AM
Note:- Boys and Girls winner of the qualifying matches will choose either A5 or B5 immediately.
All the match results along with the upcoming schedule will be posted on the BFI website. Regular updates can also be viewed on BFI's Facebook and twitter pages.
Note: This article has been published with permission from the Basketball Federation of India. The original article, on the BFI website, can be accessed here.