As the curtains came down on yet another successful title run for ONGC (men) and Southern Railway (women), spectators and followers alike will be left wondering: Are there any teams that can challenge the dominance of the oilers from Dehradun? Is there any combination of 12 women that can stop Southern Railway in their tracks?
Both teams won their second consecutive tournament after the PSG Championships in Coimbatore earlier this month. Out of the last five tournaments, ONGC has won four, with their solitary loss coming in the finals of the Jeppiar Tournament, Chennai to Indian Overseas Bank.
Southern Railway's undefeated run stretches back even farther. Their only loss that comes to mind, was over four months ago during the Ramu Memorial Tournament, Mumbai, in an inconsequential league game against Chhattisgarh.
ONGC'S secrets to success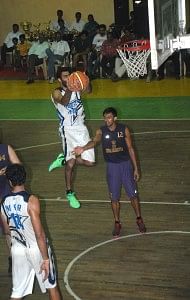 Of the twelve members in the ONGC squad, ten are current or former internationals.
The Current Internationals
The current internationals feature India captain Vishesh Bhriguvanshi, who based on past performances, is India's best player by far.
In other words, he is our own mini version of LeBron James— the 6 ft 4" guard is strong as an ox, with an upper body strength that allows him to bulldoze into the paint at will, keep pesky smaller opposition guards at arm's length, and create space in the air to score against the taller defenders manning the basket.
Then there is India's starting forward Yadwinder Singh, with his tireless and active energy on the defensive end of the floor. He has virtually no problem shutting down any opposition's best player.
Finally, there is the overshadowing presence of India's starting centre Amritpal Singh, who at 6 ft 11" and at 22 years of age, is already a versatile scorer down low.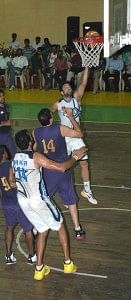 The ex-India internationals
Trideep Rai, Riyazuddin, Murali Krishna and Shabeer Ahamed have led the Senior Indian National team in the past, before hanging up their international boots to serve domestic employers ONGC (and their adopted state of Uttarakhand in the Senior Nationals).
ONGC also utilizes the services of wiry veteran point guard Mohit Bhandari, who, whenever Vishesh decides to take a breather, distributes the ball with panache and knocks down the outside jumper with a picture-perfect back spinning jumpshot.
A high IQ team
Between these 10 international players (and a notable mention to non-international Sridhar) that includes 5 India captains, the team IQ is literally off the charts.
Their intelligence and vast experience makes ONGC Dehradun the only team in India that comes closest to executing a localized version of the triangle offence — the hallowed and largely misunderstood offensive model made famous by the Lakers, that emphasizes positional skills based on maximizing the attack options and seamlessly reacting to whatever the defence throws at them, rather than playing purely on premeditation.
In their finals yesterday, ONGC caught onto Central Excise's limitations in size right away. From the get go, they ran their offence through centre Amritpal Singh, who was dominant throughout and scored 29 points in the paint.
Customs & Central Excise, Kochi – Worthy opponents
C. Excise have had a dream run in this tournament, upsetting the second strongest men's side Indian Overseas Bank in their very first league game of the tournament.
Leading from the front, their seasoned trio of Captain Monish Wilson, forward/centre Eudrick Pereira and small forward/guard Basil Philip kept punching above their weight and overcoming the odds.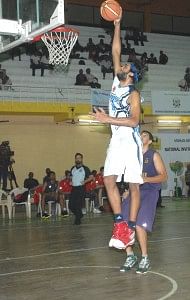 After their early upset of IOB (67-63), they beat Punjab 70-62 and had a relativelyeasier outing against Indian Air Force (76-64).
Undefeated, and having topped their group, they faced the never-say-die Indian Army team in the semi-finals. In a tense, high scoring encounter, they eked out an 89-80 win.
In the finals though, against a team sprinkled with a combination of graying and sprightly internationals, Excise had finally come face to face with a wall they could not surmount.
Despite what the scoreline may suggest (final score ONGC 76, C. Excise 63), there were still moments where C. Excise sparkled.
Forward Eudrick Pereira reminded us that big men who can shoot from the outside don't just belong to the NBA and need to go by the names of Dirk Nowitzki and Rashid Wallace. Eudrick knocked down back to back threes to open the scoring for Excise.
Captain Monish Wilson continued to will his team to fight, with 21 points of his own. Substitute forward Subhash Shenoy warmed many hearts as well. The once-upon-a-time international who now happily sports a paunch, came into the game in the second quarter and immediately had an impact.
"Calm, and not bothered by what is happening around him", was how Jayasankar Menon, donning the hat of a DD Sports commentator, described Subhash, when he beautifully backed down the much younger and taller Amrit Pal Singh to score a turnaround fadeaway jumper, just beyond the outstretched hands of the near 7 footer.
In the end, it all proved too much for Excise, who nonetheless, should remain proud of their giant killing run. Their surprise appearance in these finals injected a freshness into the otherwise inevitable match-ups that take place between ONGC and IOB.
Let's hope Excise continue their upsetting ways.
The unstoppable Southern Railway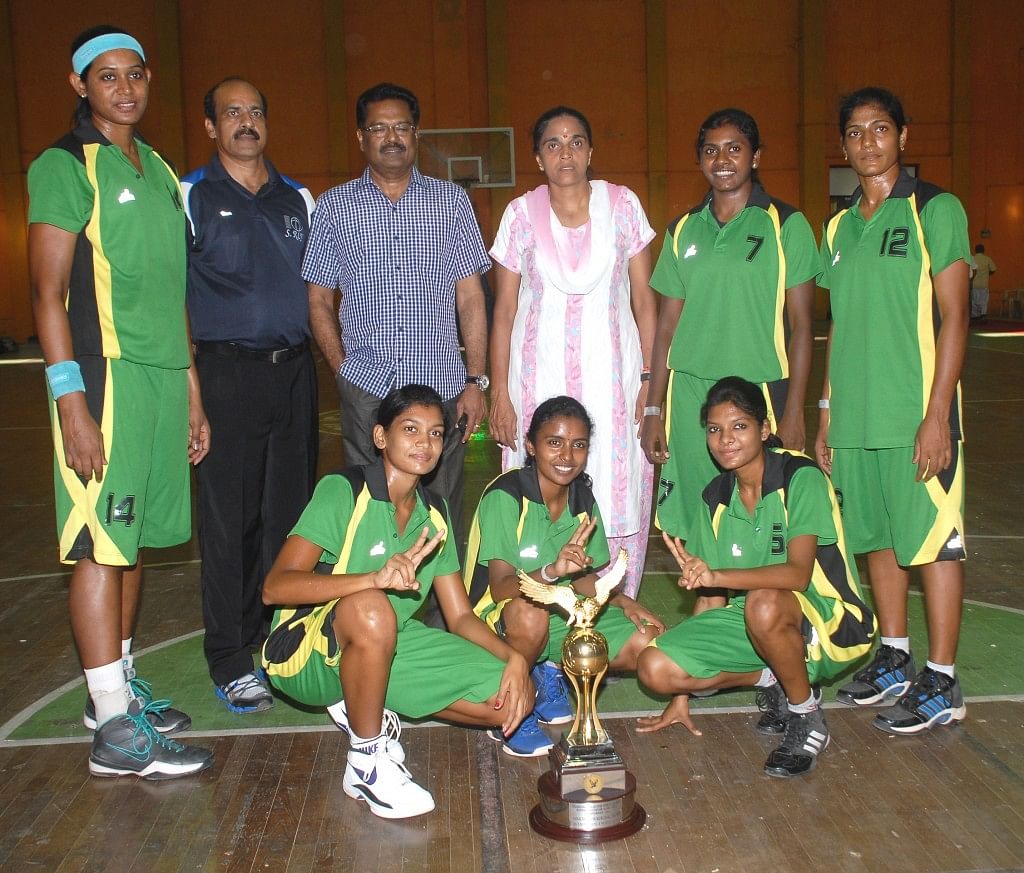 Earlier in the day, Southern Railway overpowered South Central Railways by 19 points on the back of dominant performances by star internationals Anitha Pauldurai and Geethu Anna Jose.
After this loss, South Central Railway have been denied a tournament win for the second time in a row by Southern Railway. South Central had lost to them earlier this month in the finals of the PSG Tournament, Coimbatore.
The two finals were telecast live on DD Sports with on-air commentary by ex-India player and former Asian All Star, Jayasankar Menon. Accompanying him was female broadcaster Bhagya Ayyavoo. "Geethu and I have been playing together for over 10 years now. Our chemistry is unbeatable. I just need to glance at her and she'll know what I'm thinking," signed off Anitha Pauldurai when asked about her team's dominance.
Results of Finals (22/8/13)
Southern Railway 62 (Anitha Pauldurai 23, Geethu Anna Jose 15, Neena H 12) bt South Central Railway 43 (Manda Meshram 12, Aashna 10)
ONGC 76 (Amritpal Singh 29, Vishesh 16, Muralikrisha 14, Yadwinder 12) bt Central Excise, Kochi 63 (Monish Wilson 21, Basil Philip 13, Eudrick Pereira 17)
*NOTE: All the images in this article have been procured from the organisers.*
Republished with permission from sportskeeda.com. The original post can be found here.