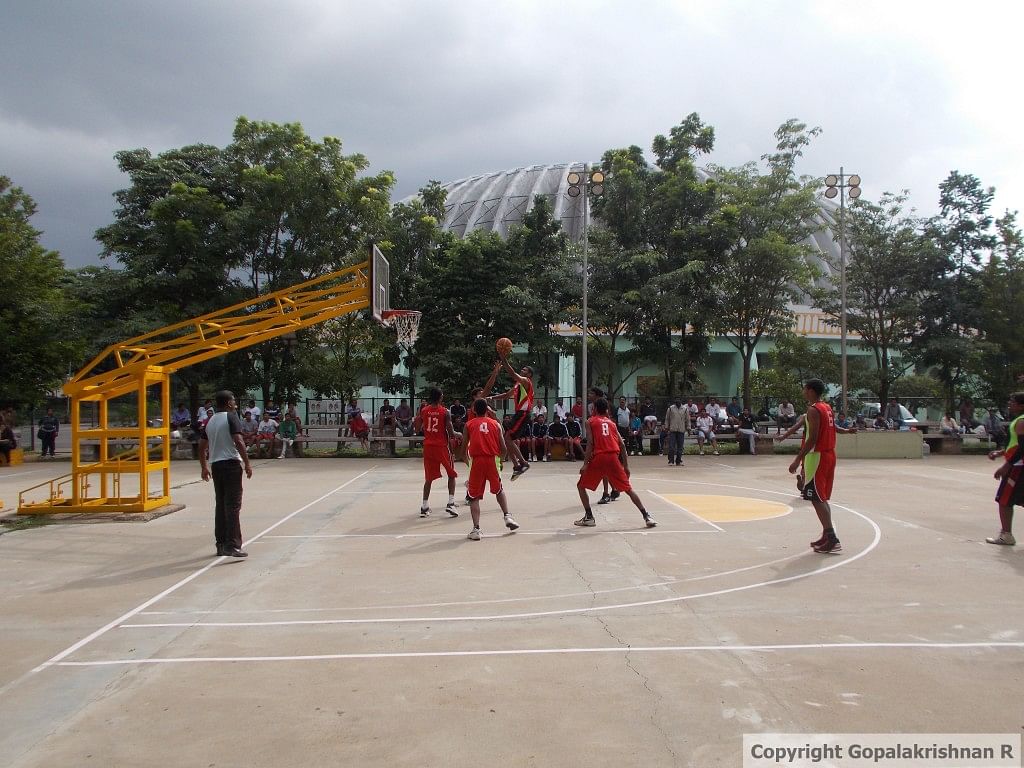 Sports Hostel beat JSC. Copyright: Gopalakrishnan R
It is unfortunate that the last thing we will remember from today is nature's fury. On Day 7 of these 'B' Division Championships, the four best teams took to the floor in their respective semi-finals. While the first semi-final between Sports Hostel, Bangalore and Jayanagar Sports Club was completed without fuss, the second between Indiranagar Basketball Club and Rising Stars, Mysore was delayed by three hours due to the rains. In the end, a compromise arrangement of a five-minute running time per quarter was agreed upon by the two teams, and the match was completed under floodlights.
Semi-Final 1: Sports Hostel Bangalore 62, Jayanagar Sports Club (JSC) 45
Sports Hostel's positives: Coming into this game, Sports Hostel, Bangalore could have been rightly accused of getting rattled every time their opponents went on a scoring streak. This time, rather than being at the receiving end, they took it to their opponents from the opening whistle. Aggression and intent characterized their performance, especially in the first half. Led from the front by their veteran point guard Rangan, who deftly controlled the tempo of the game, SH executed their game plan perfectly. Apart from their floor leader Rangan, who had a sensational highlight play where he shook off two consecutive defenders with back to back blink-and-you-miss-it between the legs dribbling moves which culminated in a layup — SH got another powerhouse performance from their forward Ganesh, who was unstoppable in his drives to the basket.
JSC's drawbacks: JSC's only weak link in their line-up has been their lack of size. Barring their tireless centre Varun, JSC were unable to counter the multiple SH players who kept crashing the boards. Unable to secure their defensive rebounds in a jiffy, JSC were denied the opportunity to push the ball out in transition through their explosive fast break specialist Pervez. Parvez in fact, was guilty of rushing for fast breaks before his front-court team-mates had secured the defensive rebounds. His lack of boxing out of SH's guards allowed them to grab many offensive rebounds that fell outside the paint. JSC were also found wanting when it came to breaking SH's zone defence. Many of their outside shots clanged off the back of the rim, which, in the final analysis, sounded the death knell for their hopes of reaching the finals.
Semi-Final 2: Indiranagar Basketball Club (IBBC) 21, Rising Stars, Mysore 13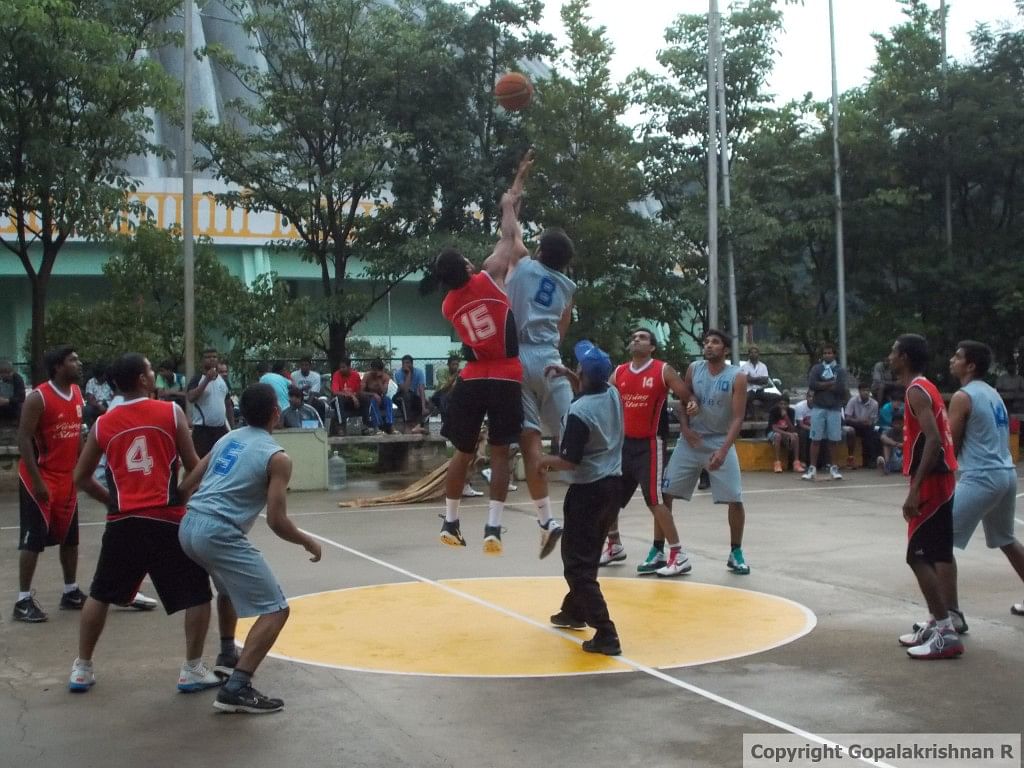 The rain shortened tie between IBBC and Rising Stars tips off. IBBC won 21-13. Copyright: Gopalakrishnan R
Until the day comes when Duckworth-Lewis turn their attention to the peculiar problems of India's predominantly outdoor basketball tournament scene, incidents such as today will keep repeating themselves. The two semi-final matches were initially scheduled to start simultaneously at 3:00 pm on Kanteerava's twin outdoor cement courts. The organisers then decided to reschedule the IBBC v. Rising Stars match after the the Sports Hostel v. JSC semi-final. One can't really blame them for this decision. It is unfair to expect the spectators, sparse as they may be, to divide their attention between two semi-finals happening simultaneously on adjacent courts. If only the organisers had anticipated the rain!
There are many advantages of playing a tournament in Bangalore. For one, the temperature is constantly hovering around 25°C and it's usually cloudy with a pleasant breeze. Also, showers in Bangalore generally last not more than 15 minutes or so, and invariably it rains only in the evening around 6:30 pm (the local crowd refers to this as the "office-goers showers"). Today, unfortunately, the rains lasted for a lot longer than 15 minutes, effectively postponing this match by three and a half hours. Twenty minutes of basketball was all that these two teams could play, to decide who would go through to the finals. IBBC proved to be quicker off the blocks in this T-20 version of basketball, and they raced to a nine-point winning margin. But all said and done, the man of this match was the inclement weather.
Semi-Finals Results (Day 7, Wednesday, 10-7-2013)
Sports Hostel, Bangalore 62 (Rangan Gowda 25, Ganesh 18) beat JSC 45 (Minhal 18) HT 36-25.
IBBC 21 (Naveen 6) beat Rising Stars, Mysore 13 (Vimal 6) HT 16-3.
Note: The Finals between Sports Hostel, Bangalore and Indiranagar Basketball Club (IBBC) will be held on Saturday, 13 July 2013 from 3:00 pm onwards at the Kanteerava Outdoor Courts, Bangalore. 
Republished with permission from sportskeeda.com. The original post can be found here.