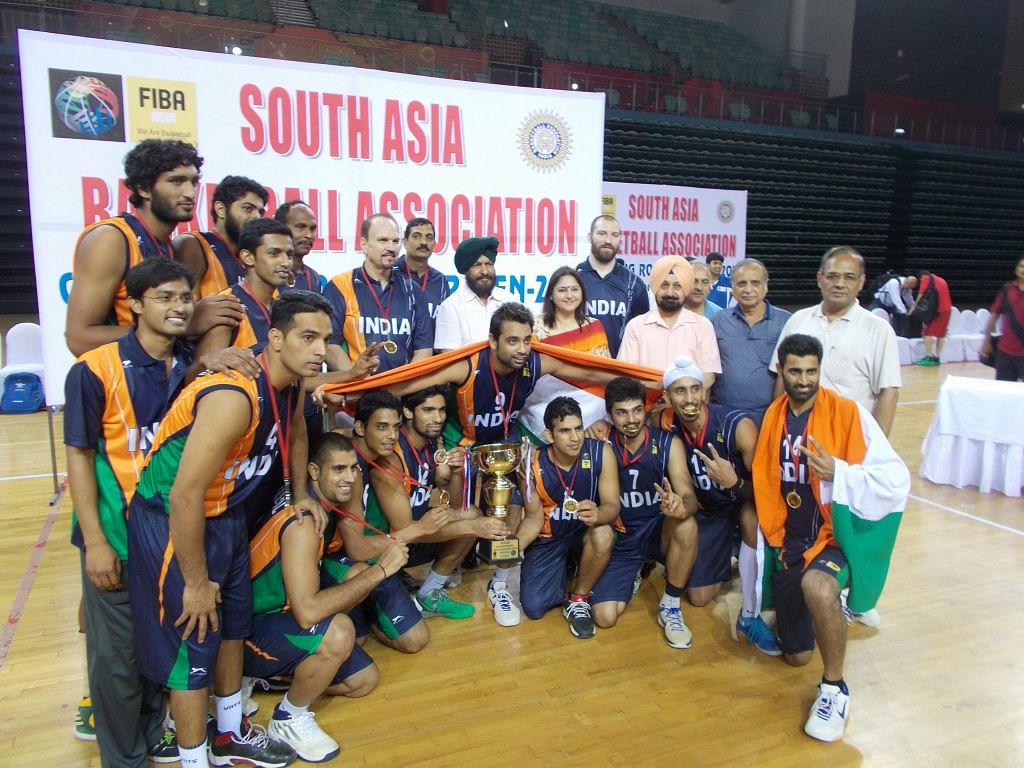 Copyright: Gopalakrishnan R
India restricted Afghanistan to less than 50 points en route to a convincing 64-46 win and has now secured the lone qualifying spot that was up for grabs from the South Asian region. India will now take part in the 27th FIBA Asia Championships to be held in Philippines in early August.
India's emphasis on team defensive drills under Coach Scott Flemming came to its rescue in yesterday's match against Afghanistan. This was a do-or-die encounter for both teams, as the third side in the tournament, Nepal, had already been knocked out after losing both its games.
Afghanistan and India share an entertaining basketball rivalry as the two best South Asian Basketball nations. This match was expected to go right down to the wire and was a lot closer than the score line suggested.
Quarter wise scores: 
India led 19-9 at the end of the first quarter. Halftime: India 34, Afghanistan 18. Third Quarter: 47-29. Final Buzzer: 64-46.
Summary: 
These SABA qualifiers were being held at the Thyagaraj Indoor Stadium, New Delhi, and India seemed buoyed by the home support. India started off in fine fashion, opening up a 7-0 lead early in the game. Centre/Forwards Amritpal Singh (no.10) and Amjot Singh (no. 13) had match-winning performances for India. They secured crucial rebounds on both ends of the floor and scored on tough physical plays around the basket.
Another notable performer for India was Air Force point guard Joginder Singh (no. 11), who knocked down three crucial three pointers. These outside shots were significant considering that India's franchise face and Captain Vishesh Bhriguvanshi (no. 9) had an off-night in shooting.
Afghanistan were served well down under by Centre and Captain Nafi Mashriqi (no. 5), who held his own against the much taller Indian post players.
He said, she said: 
"Our offensive rebounding was poor. We have lost previously to Afghanistan, so we had to come out strong and win this game."
–          Amjot Singh Gill, India's Power Forward, on his performance
"We knew they were a good side, so we didn't take them lightly. We had seen them play yesterday (in the match against Nepal) and were prepared. We've worked hard from day 1 on our defense. We did a lot of good things today, especially in transition."
–          India Head Coach Scott Flemming, on the areas that need improvement
"We need to get better in defensive rebounding and in our half court offense. These will be some of the areas that we'll focus on in our upcoming training camp before the FIBA Asia Championships in August."
–          Coach Flemming, on the areas that need improvement
Thumbs up: 
India's team defense
The real success story in this year's SABA qualifiers has been India's energy on the defensive end. India managed to repeatedly disrupt the set half-court plays of the opposition with their pestering man to man defense. Afghanistan (and earlier Nepal) was forced to play at a faster pace than they would have liked, resulting in slightly rushed shots that they were unable to convert.
Punjab Power
India's two front court giants, seven-footer Amritpal Singh and 6 ' 9 '' Amjot Singh Gill had invaluable performances in this must-win encounter. Amritpal is 22-years-old and Amjot, a year younger.  But these two belied their age with their level headedness and patience down low in backing down the defender and scoring over them with well executed hook shots. Another heartening sign is the underrated passing ability between these two big men down-low. Watch out for Amritpal and Amjot, sure fire stars of the future!
Thumbs down:
India's rebounding
Despite out-rebounding Afghanistan, the fact is that India still has considerable work to do in securing the boards as we look ahead towards the daunting prospect of facing the much stronger FIBA Asia teams. There were some crucial lapses in our boxing out on the defensive end, which led to multiple second chance opportunities for Afghanistan.
Sights and sounds:
Spotted! Former India men and women's captains Trideep Rai and Divya Singh. Accompanying them was erstwhile India player Mohit Bhandari and his wife, the retired Delhi player Poonam Goswami.
Relive the exciting moments of the game with our blow by blow commentary here.
Republished with permission from sportskeeda.com. The original post can be found here.