'Know Your Stars' is a new column that profiles our most talented and active basketball players. Mohit Bhandari has always been a unique playmaker. A staple in the powerhouse ONGC squad for the last decade, he has been content to remain in the background surrounded by more vocal and physically imposing teammates. Now in the final stages of his career, Mohit reminisces about his twenty year association with basketball. His career is a shining example of how you don't need to be the strongest or flashiest player to make an impact on the court. Introducing, the wiry veteran Mohit Bhandari.
Name: Mohit Bhandari
Born: 22-11-1981
Hometown: Bhilwara, Rajasthan. Bhilwara and Ajmer (apart from Kota in earlier times) are basketball hotbeds in Rajasthan. The Arjuna awardee Surendra Kumar Kataria, DM Divaker and former India player Mohamed Haroon, all hail from Bhilwara.
Height: 186 cms/ 6'1''
Position: Point Guard
Played for: Rajasthan Sub-Juniors (1992-93); Tata Steel, Jamshedpur (1998-2002); India Senior Men's Team (early 2000s); ONGC, Dehra Dun & Uttarakhand (2003– current)
Major Tournaments: Represented Rajasthan in the School Asian Championships, Delhi (1997); Junior Asian Basketball Championships, Calcutta (1998); u-20 Asian Championships, Qatar (2000); Senior Asian Championships, Shanghai (2001)
So many sports, why basketball?
I come from a joint family. My uncle Ajay Bhandari used to play basketball for Rajasthan and even attended a national camp before he turned towards business. I saw him play and got interested in basketball. If not for basketball, I would probably have joined my family business.
First time you held a basketball in your hand:
I started playing in '92-'93. Around the same time, I took part in the Sub-junior School Nationals where I represented Rajasthan State. I have been playing for 20 years now.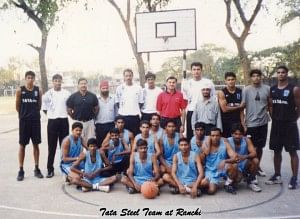 As part of the Tata Steel Team. Photo Courtesy: Vinay Sheoran
Support System:
My family fully supported me in sports. My grandfather, especially, was of the opinion "khelna zaroori hain (playing is necessary). If your health is good then everything else follows." I wasn't really that keen on studying!
Apart from my uncle, my wife Poonam Goswami is a physical education instructor at the American Embassy School, Delhi. She has played basketball herself, and was part of the Delhi team which won the Gold Medal in the 53rd Senior National Basketball Championship, 2003 held in Hyderabad. This was a huge achievement as the Women's Senior Nationals is always dominated by the Indian Railways team.
Signature Move (Favourite Move):
Driving to the hoop. Depending on the situation, I can drive in from all angles. I also use the outside shot to my advantage whenever I'm given space.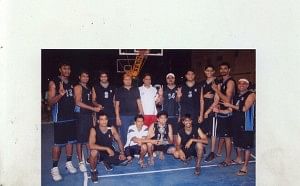 In this file photo, as part of the star studded ONGC team that features internationals Trideep Rai (sitting with trophy), Riyazuddin (sitting far left), Murali Krishna (standing, second from right), Shabbir Ahmed (standing, far left), among others. Photo Courtesy: Trideep Rai
Favourite Training Drill:
To highlight one drill is impossible. A basketball player needs to work on defense, offense as well as ball handling. You can't win only on offense. You can only take a lead in the game, if you stop the other team from scoring! When it comes to shooting, it is important to practice daily. If you miss one day's training, then you are two days behind!
Training Regimen:
I currently play for ONGC, Dehradun. We have two sessions. The one in the morning is for endurance and conditioning. In the evening we focus on skill development and team practices. Since Dehradun gets really cold, in winter the morning sessions run from 8:00 am to 10:00 am. In summer, the session is from 7:00 am to 9:00 am.
Secret behind your longevity:
The fact that many of my opposition players and teammates are taller, younger or more muscular has never troubled me. I have always had the benefit of speed and very strong fundamentals. My first coach Pyarelal Khoiwal made me do a lot of work everyday. He literally held my hand while he taught me dribbling!
Favourite Indian player:
The legendary Shahid Qureshi from Mumbai. In the late 90s, he used to play with us in Tata Steel, Jamshedpur. Now he has settled in the US. He was very appreciative of us and used to motivate all youngsters. Like me, he was a point guard, but he could also play as a forward even though he was only 6ft 2 inches. I learnt from him how to drive in with power.
Favourite international player:
In my junior days, I used to watch Magic Johnson and Michael Jordan. I remember waking up in the mornings and following the Chicago Bulls on TV as they won their last few NBA championships. The Bulls were a dream team, and there was something magical in the way Jordan, Scottie Pippen and others played as a team.
Most memorable moment:
There have been so many games, it's hard now for me to single out specific moments! But one stand out memory was beating the formidable Indian Overseas Bank team in the semi-finals of the Federation Cup held in Jamshedpur in early 2000s, while I was part of the Tata Steel squad.
Most difficult moment:
My knee injury in 2004, while in Kazakhstan. In 2005, I had to undergo a surgery on the knee. I thought my career was finished. Thankfully, my body weight is low, so my recovery was relatively faster. I did extensive rehab using a lot of ankle weights. Also, the fact that I stay away from drinks, helped.
Future goal:
Playing is possible only till a certain age. But I want to remain associated with basketball for as long as possible, so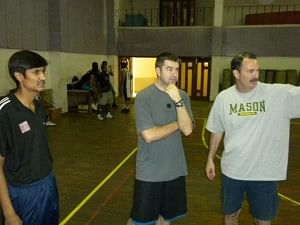 A possible future in coaching? Mohit as Assistant Coach for the Senior Men's team, seen here with Former Head Coach Alexander Bucan (centre). Photo Courtesy: JD Walsh
that others can learn from me. I have received so much from this game, I also want to give back to others. In 2009 and 2010, I was Assistant Coach for the India Senior Men's team during the time ofCoach Alexander Bucan. So coaching is an option for me after retirement.
There was a point of time last year, when I was seriously considering resigning from ONGC and getting into the family business on a full time basis. But a few of my teammates convinced me to stay on. If you love the game, it is difficult to move away.
Favourite sports person in general:
I don't really follow other sports, so I'd rather not comment. I do watch a bit of cricket, and respect Sachin Tendulkar as a player and person.
Message to fans and youngsters (tips):
The coming times are good for Indian players. We have performed well at the under-18 3×3 FIBA Asia Championships (India juniors won the silver in both the boys and girls divisions). If youngsters work hard, then they have a real opportunity to make a name for themselves. A prominent example is our very own Vishesh Bhriguvanshi (his ONGC teammate, who is a starter on the Indian Senior National team). He is crazy about the game, which is what has taken him to the highest level.
Your personal motto/life philosophy:
Be satisfied with who you are.
 This interview is part of the new 'Know Your Stars' column that profiles our most talented and active basketball players. Previous interviews from this series: Karnataka Captain Srinivas Naik, India youngster Ranbir Singh Virdi.
Republished with permission from sportskeeda.com. The original post can be found here.