Know Your Stars' is a new column on our most talented and active basketball players. Meet Srinivas Naik, the charismatic captain of the Karnataka Senior Men's team. His performances usually dictate the fortunes of his side in all major nationa
l tournaments. I was particularly impressed by his cross court no look passes made from either hand, during the recently concluded Ramu Memorial Basketball Tournament, Mumbai.
Name: Srinivas Naik
Teammates call you: Naik
Born: 01-01-1986
Height: 190 cm (approx.)
Hometown: Raichur, Karnataka
Played for: Karnataka (2001- current) & Vijaya Bank (2007- current)
Position: Power Forward
First time you held a basketball in your hand: I was in the 8th standard and studied at the Sandur Residential Composite Junior College, Bellary, Karnataka.
So many sports, why basketball? If not basketball, then what? I was quite tall, so the coaches at my school thought I'd be suited to this game. If I wasn't playing basketball, then I probably would have continued my education. I am a commerce graduate from Surana College, Bangalore.
Support System (family— whether they played & coaches— how they helped): I am the first and only one in my family to take up any professional sport. They never tried to restrict me from playing basketball. My first coach was Mr Anup, who taught me all the basics.
Signature Move (Favourite move): Three pointers and drive ins.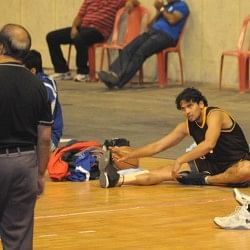 Post game stretches at Kanteerava Stadium, Bangalore. Photo Courtesy Srinivas Naik
Training Regimen: I am the Assistant Manager at Vijaya Bank, Bangalore. I am in office the whole day. But I manage to put in two sessions of training: one in the morning from 7-8:30 am. The evening session is from 4:30 to 6:30 pm. Morning sessions focus on fitness/endurance and weight training. The evening sessions are for team practices that include half court games.
Your favourite practise drill (and how it helps you): My favourite drill is working on my outside shot. This involves jogging up to the half court line and back for pull up three pointers. I usually shoot for an hour or so every day and attempt 100 shots in a row. The focus in my mind is to convert a unbroken sequence of five to ten baskets. I have a rebounder as well and I make shots from the top of the key and both elbows. This drill helps me as it improves my shooting and ensures I have adequate power in my shoulders so that the ball reaches the ring even when I am tired.
Favourite Indian player (and why): There is no professional Indian player as such, but I had amazing chemistry with a Karnataka teammate at the under 18 level. His name was Varun Raj. We had good understanding and eye to eye contact. Unfortunately, Varun isn't an active player anymore.
Favourite international player: Michael Jordan. I used to watch all his videos ('Come fly with me', 'Air time' etc.) before my matches, so that I could carry forward at least 10% of that into my game.
Most memorable moments: When I was playing for the Sports Hostel, Bangalore. I was 18 or 19 years old. We played in a 15 day 'A' division tournament against the best senior teams in Karnataka like Vijaya Bank, Hindustan Aeronautics Limited (HAL), Madras Engineering Group (MEG) and Karnataka State Electricity Board. In this tournament, I scored around 304 points in seven matches (43 ppg). This was the breakout tournament for me.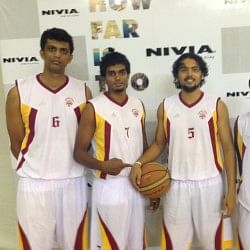 With his Karnataka teammates (from left to right) Sanjay Raj and Hrishikesh Naidu.Photo Courtesy: Srinivas Naik
Most forgettable moments: My toughest loss was in the 2009 Ramu Memorial Basketball Tournament against Chennai Customs. We blew a 22 point half time lead and ending up losing by the same margin!
Future goals: While it will be a dream come true if I can one day play for the country or in the NBA, I just want to continue to play basketball and keep improving.
Favourite sports person in general (and why): Roger Federer and Rafael Nadal. They are extremely hard workers in one of the fastest games in the world. Federer's consistency is particularly remarkable. He won the Wimbledon five years in a row!
 Message to fans and youngsters (tips): I just have one thing to tell everybody. Work hard and focus on what you want to do. The results will come on their own. Don't quit prematurely.
Your personal motto/life philosophy: To keep loving the game. A lot of people started playing basketball around the same time as me. Everybody else has quit, but I never once thought of moving away from basketball.
This interview is part of the new 'Know Your Stars' column that profiles our most talented and active basketball players. Previous interviews from this series: India youngster Ranbir Singh Virdi, ONGC veteran Mohit Bhandari. 
Republished with permission from sportskeeda.com. The original post can be found here.