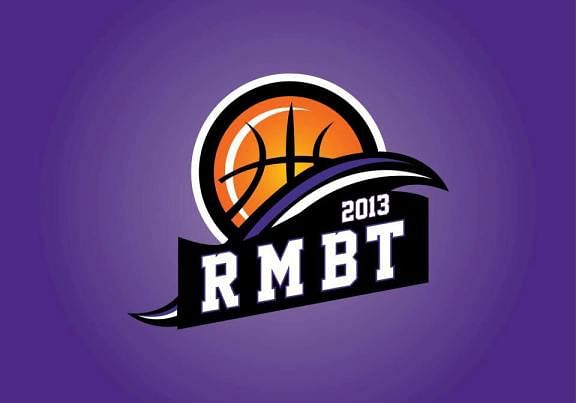 Alas! All good things do come to an end. So it is with the 28th Ramu Memorial Basketball Tournament 2013.  Sunday, April 21st was the last day of action, and what a way to end! Three action packed finals one after the other. Packed stands and numerous TV cameras kept track of every move of the best players in the Senior Men's, Women's and Junior Sections.
U-21 Finals: Savio Club 86, Mastan YMCA 54
The first finals of the day proved to be a one-sided affair. Savio Club had already beaten Mastan in the league stages. The finals was no different. Savio has had the supreme luxury of two extremely talented and physical big men in the form of Melvin (14) and Paras (15) throughout this tournament. The two over-sized youngsters clobbered the much smaller and skinnier Mastan players. Both of them averaged a double double! The tall and thin Melvin had 24 points and 15 rebounds, and the slightly shorter and much heavier Paras joined him with 20 points and 16 rebounds. In the end, Savio won by a huge 32-point margin. The final scores read 86-54. Savio Club are the 2013 RMBT Junior Champions!
Women's Finals: Southern Railway 64, Chhattisgarh 39
Chhattisgarh have nothing to be ashamed about. They lost to a better team. A much better team, to be precise. Southern Railway's pestering man-to-man defense held Chhattisgarh to their lowest score of 39 points in this tournament. Southern Railway completely shut down Chhattisgarh's drives to the basket, so that they could score only 16 points in the paint. The smaller Chhattisgarh players were out-muscled and physically overwhelmed by the Southern Railway players. Centre Rajapriyadarshini of Southern, named MVP of the tournament, top-scored yet again with 20 points. Anitha Pauldurai had an all-round performance with 17 points and 9 rebounds. The speedy Kokila chipped in with 15 points and 8 rebounds.
Barring the first 14 seconds, Southern held the lead throughout the game. Such was their dominance that one wondered how they could have lost their league encounter against the same team by 1 point! Southern have never lost in any finals in RMBT history. With this convincing win, their perfect finals record at RMBT will be intact for another year!
"We really worked hard for this win. In the first game (against Chhattisgarh) we wanted to give some rest to the seniors and played only the youngsters. Only if you give the youngsters experience will they learn."

–          Prasanna Jayashankar, Head Coach, Southern Railway, on her team's performance

"We were slack in the previous game (Southern had lost to Chhattisgarh by 1 point in the league stages). The first match gave us much needed experience and we planned our defense better in this game."

–          R Rajapriyadarshini, Centre Southern Railway

 "I'm very happy. This is my first tournament for Southern Railway. I'm really thankful to RMBT for giving me this award. This award goes out to everybody. It is because of my teammates that I performed the way I did. I didn't expect anything. I'm a junior, so all I wanted to do was give my best."

–          R Rajapriyadarshini, reacting to being named 2013 RMBT MVP

"It's nice to get some recognition for basketball. Thanks to RMBT. It is the only tournament that recognizes the contribution of yesteryear stalwarts year after year."

–          Prasanna Jayashankar, Head Coach, Southern Railway, on how she felt being felicitated by RMBT for her contribution to Indian Basketball
Men's Finals: ONGC 59, IOB 54
The best for the last! What an encounter this was! Unstoppable force meets immovable object. The two teams who have been fated to collide ever since the 28th RMBT started, didn't disappoint us when they finally came face to face. All the comparative advantages that these two powerhouses had enjoyed in the league phases: experience, size, speed and outside shooting were negated by the other side:
Murali Krishna and Yadwinder down low were met by Rikin Pethani and Vineet Mathew of IOB
The scoring machine Vishesh was countered by the young and dynamic Pratham Singh
Mohit Bhandari's perimeter shooting was nullified by Hareesh Koroth
Riyazuddin and Shabeer's experience was matched by playmaker Mihir Pandey
The only outcome that would perhaps have been more apt between these two evenly matched teams was if the match went into overtime! But the final score of 59-54 at the end of four quarters was just as welcome. There was really nothing to separate the two sides. If Vishesh scored 17 points, Pratham answered with 21. When ONGC forward Yadwinder scored 18, Rikin matched that with 18 points of his own. IOB enjoyed a rebounding advantage of 41-35, but ONGC scored more points in the paint (40-32).  As a team, if ONGC shot 38% from the field, then IOB fared only slightly better with 40%. With so little to choose from statistically between these two sides, how did ONGC prevail in the end?
The answer lies in turnovers. IOB turned the ball over as many as 19 times to ONGC's 13. In any other game, this statistic would not have jumped out of the scorer's sheet. However, this is the RMBT Finals, and not just any other game! In any encounter between two top quality teams, the side that makes the fewer number of mistakes will win. Preparation comes second to being able to keep your nerves. ONGC managed this mental aspect better, forcing IOB into making crucial turnovers down the stretch.
Thumbs up
IOB's help defense on Vishesh Bhriguvanshi. Vishesh was held to a tournament low 17 points in this game. He was averaging in excess of 25ppg before the finals. IOB's help defense that included a monstrous block by Rikin, ensured that Vishesh was made to work harder than usual for his 17 points. The Varanasi boy VB though, had the last laugh. Not only did his team win, he was also named tournament MVP!
Thumbs Down
Substitution Strategy of both Coaches. Coaching is undeniably a thankless job. But we wonder what could have prompted ONGC's RK Dubey and IOB's Aezaz Ahmed to not play their respective spot up shooters, Mohit Bhandari and Hareesh Koroth for longer durations. Mohit played only 9 mins early on in the game. Hareesh was used for 28 mins, but did not play in the defining fourth quarter.
"Our confidence came and went in spurts with every 2-3 baskets. We made some mistakes down the stretch which cost us. We wanted a good match. Next tournament, we'll definitely be better."

–          Pratham Singh, IOB's fearless young scorer after the game

"Shuru mein thodi lag gayi (I had gotten slightly injured early on in the game). Yeh coach par depend karta hain. (One's playing time depends on the Coach) I also feel bad that I didn't get to play much in these finals despite consistently performing in the previous matches."

–          Mohit Bhandari, ONGC's high impact point guard, who got only 9 mins of playing time