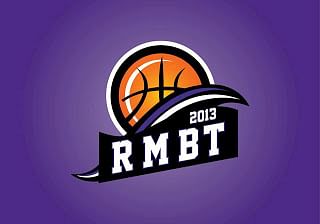 16-04-13: A heartbreaking win! Ironic as it may sound, that is the only way to sum up Maharashtra's 10-point victory over Chattisgarh in game 2 of their back to back encounter.
This year's RMBT has only 3 women's teams. The dynamics of a round robin between 3 teams necessarily involves each team playing the other twice. With the virtually unbeatable Southern Railways being the third team in the tournament (assuming international stars Anitha P and Geethu Anna Jose are part of the squad), the women's league games was always going to be a battle for the right to face Southern Railways in the finals.
After Maharashtra's loss in game 1 to Chattisgarh, they were faced with a must win situation in game 2 against the same opponents. In their previous match, Chattisgarh had gotten the better of Maharashtra winning by 11 points (71-60). Needing to beat Chattisgarh by an identical or greater number, Maharashtra won 59-49, falling just one point short than their preferred victory margin.
Maharashtra did everything right. They completely negated Chattisgarh's famed transition game, which had bothered them throughout the previous game. Their strategy of employing a defensive balance, in the form of the sizeable no. 15 Kasturi More, dissuaded the smaller Chattisgarh players from running the break.
Key Performances
Manisha Dange. For the second straight game, she led the side by example. She did everything: handling the ball, post up, turnaround jumpers, transition pull-up jumpers, outside shooting, rebounding on both ends on the floor, leadership duties, apart from being clutch. Can she never have a bad day? She was tireless even at the age of 33, playing the full 40 minutes. She had a double-double (28 pts, 10 rbs) for the second game running.
Highlight Plays
Nail in the coffin! No. 6 of Maharashtra, Amruta Bhuskute: with shot clock winding down, and only 2 mins left in the game, knocks down a dagger three from near the half court line. This finally broke Chattisgarh's back who until then were still trying to push for the unlikely win.
Momentum Shifts
A series of momentum shifts beginning late in the first quarter continued till the end of Q3.
One of Maharashtra's starting 5, no. 15 Kasturi More gets injured with 3:48 mins left in Q1. She was Maharashtra's only sizeable presence down low. In her absence, Chattisgarh immediately started attacking the basket, cutting down the sizeable 9-point deficit to 3.
However, these few mins of momentum is all Chhattisgarh got as Kasturi's substitute settled in and the lead grew back upto 7 (29-22) at halftime.
The first five minutes of the third quarter belonged to Chhattisgarh thanks to the effort of their senior players Deepa L (8) and Pushpa Nishad (4). In this period, the Maharashtra lead reduced to within 2. The last 40 seconds of the quarter again reversed the tide in favour of Maharashtra: Maharashtra gets a steal leading to a layup and a coast to coast transition pull up at the buzzer by who else but Manisha Dange. This brought their lead back upto 7 (45-38), which they would never let up on in the last quarter.
"God hi deta hain taakat. Mere age mein 40 minutes khelna (God gives me strength to play 40 mins at my age)— its not possible. In this match we played a zone defense so my stamina was better"

–       Manisha Dange, Maharashtra Captain on her longevity after all these years

"End tak hum koshish karenge. (We shall fight till the end)"

–       Manisha, when informed that they would now have to beat Southern Railways at least once for a spot in the finals

"Quite a few players were missing from our squad such as Renu, Shruti and Anamika. Shireen Limaye is in Ludhiana for the 3 on 3 nationals."

–       Manisha again, on her depleted squad
Thumbs up
Aggression on Offense: A lot can change in a game. Maharashtra, who were playing catch up the whole of their last encounter against Chattisgarh, came out all guns firing in this critical game 2.
Maharashtra zone defense: Chhattisgarh was held to under 50 points. Maharashtra fully negated Chattisgarh's transition game and relative size advantage down low, which is easier said than done.
Thumbs Down
2:30 mins. Both teams were slow off the blocks to open the scoring in this game. Exactly the opposite of game 1.
Sights and sounds
The young cheer leading squad, barely 3 feet tall, preempted this game with a dance performance to "Sorry sorry sorry, bacchon ki loge jaan kya…" Lyrics pretty apt must say. Little girls in the crowd start mimicking the steps too. What's with women and dancing?! From the events unfolding, definitely looks like the dancing craze is ingrained from a very young age.
This event's coverage is also available on the official Ramu Memorial website.