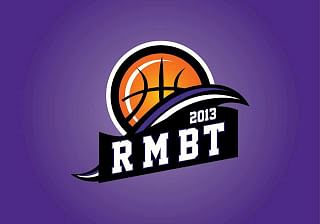 15-04-13: After their drubbing on the first day at the hands of Western Railways, it was going to be next to impossible for Maharashtra to overcome a formidable IAF team, which just yesterday had taken the powerhouse Indian Overseas Bank (IOB) team right down to the wire before falling short. This game would be no cliffhanger.
IAF opened a 10-point lead at the end of the first quarter, which grew to a 15 point differential at the half (45-30). The IAF backcourt duo consisting of internationals Joginder Singh (4) and Narender Kumar Grewal (5) had another dominating display, pushing the tempo of the game to suit their fast paced approach. Four IAF players scored 10 points or more, with Narender leading all scorers for the second consecutive game, with 24 points. For Maharashtra, K Raj had a double-double (17pts, 10rbs).
With their second straight loss in Pool B, the bottom placed Maharashtra is now virtually out of contention in the 2013 RMBT. They will play IOB in their last league game on 16thApril.  Indian Air Force, on the other hand, will battle it out on 17th April with Western Railways for a spot in the semi-finals.
Thumbs up
And 1 and 1 and 1 and 1! IAF's International player Narender Grewal had multiple 3-point plays. The Maharashtra players were unable to stop him or even tie him up successfully. NK was sent to the charity stripe 10 times, of which he converted 6 free throws.
Thumbs Down
Both teams played their second string through most of the fourth quarter. By this time, the match was more or less decided as Air Force had a 19-point cushion. But it's a thumbs down from the crowd who missed out on watching the best players from the two teams for another 10 minutes!
Sights and sounds
Afrodesiac! The Maharashtra team had a new player warming the bench for this game. He was immediately noticed by everybody in the crowd, thanks to his carefully nurtured 'Afro' hairdo. Going by the Ivy League name of Princeton, he came on for 3 mins in the third quarter, much to the delight of everybody present.
This event's coverage is also available on the official Ramu Memorial website.