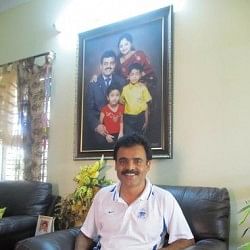 Malleswaram MLA Ashwath Narayan
The moment you hear the word 'politician', the spitting image of a pot bellied, greying man in a white kurta comes to mind. You would never for the life of you, think of a 40 something person who frequently takes part in city marathons. But for Malleswaram MLA Ashwath Narayan, sports has always come first. With his mantra fitness first, he aims to make Malleswaram a sporting hub for the rest of Karnataka. This Q&A traces Mr Narayan's journey into politics, the importance of integrating sports with all round development, his take on burning national issues such as marks for sports and the pending sports bill, and his own initiatives for the Malleswaram constituency.
What made you keen about getting into politics?
Politics matters as it affects each and every common person's life. Leadership is important irrespective of your profession. It is important to make a big difference and put forward the thoughts of the people.
When did you decide to enter politics?
From childhood.
By qualification, you are actually a doctor. If you knew you were going to enter politics from your childhood, why did you get into medicine?
Qualification is important. One needs exposure as a professional. (I feel) my exposure to medicine has made me a better leader.
You are not from a political background. It must have been tough to switch from the specialised field of medicine to politics. How did you manage this switch? It might inspire other youngsters as well to take up politics.
Your family has to encourage (you). As a young professional, it definitely was a challenge. The most important thing is that your enthusiasm should not die with age. Even while in college, I was a student leader at Kasturba Medical College. Later, I started educational institutions and diagnostic centres. Before getting into politics, I wanted to prove myself.
This interest in sports is rare for a politician. In fact, the majority of politicians seem to be old and unfit. At one point of time, your own former party president Nitin Gadkari found it difficult to bend down. So why are you so keen on sports?
I can't comment on Gadkari, but even he has lost a lot of weight after his (bariatric) surgery. Each person is different. There could be diet or hormonal problems (leading to weight abnormalities). But as such, my keenness in sports stems from the fact that health is important. Development means all round development. People should feel (that the) system is responding to them, catering to their needs. Sports is about fitness and it increases your metabolic rate. Once you are obese, how can you perform?
As part of one of your recent sports initiatives, you converted the old outdoor Beagles cement court into an indoor stadium. There is criticism among the Malleswaram residents that this is leading to reduction in open spaces and doesn't allow rainwater to seep through.
In a democracy, there will be both 'for' and 'against'. You have to respect opinions, but at the same time, not be indecisive. I am not converting open spaces. This was earlier a cement court. These people who seem to worry about rainwater seepage, should instead focus on (my efforts in improving) rainwater harvesting. Out of the 50 taluks in Bangalore, Malleswaram is No. 1 in rainwater harvesting.
Basketball is supposed to be an indoor sport. Karnataka has a population of 6.5 crores; Bangalore has a population of 1 crore and there is not even 1 court of international standards. What kind of facilities are we providing to our citizens?
But there are also other concerns, that this court will not be freely open to all…
It was built for the general public only. There is no bar on entry. It will be open for all.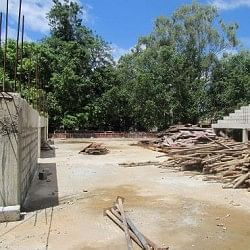 The site of the proposed 2000 seater indoor basketball stadium on 15th Cross, East Park Road, Malleswaram (as of July 2012). The construction was to have been completed months ago. But as per the supervising engineer on duty, the reason behind the delay is the migration of labourers back to the villages for the agricultural season.
Were you yourself into sports in college? Did you play any sport?
It was more of a hobby for me. I used to play tennis and football. At the college level, anybody can represent (the university).
What are your views on ex-sports minister Ajay Maken? People are saying he was the best sports minister the country has ever had, especially after his aggressive stance against the BCCI, pushing for its accountability.
I don't know much about Maken. But yes, a transparent BCCI, a BCCI (covered) under the Right to Information Act is very important. These are all good things. Everybody is answerable, so in that sense, his efforts are appreciable.
His proposed National Sports Bill also tries to limit the tenure of the president of these federations to ensure they do not continue beyond the age of 70 years. What are your views on this?
Sports should not become a monopoly. A permanent President or Secretary is not effective. They should not continue more than 2 tenures. Age limit (on the other hand) I think is a very ticklish issue. Age should not be a criterion.
What is your take on the state of sports in India (as compared to other countries)?
There is no professionalism in India. People are only playing for fun. Sports in India has always been in the backseat. Every panchayat should have a full-fledged playground. (But) These panchayat members are all busy chatting nonsense. Sports builds team culture and creates a very energetic youth. My aim is to create a sports culture habit as against the current Bangalore pub culture habit. Who would want a weak, scared, non-adventurous society? Society must be strong and committed. Western societies are adventurous. There, the top priority is sports.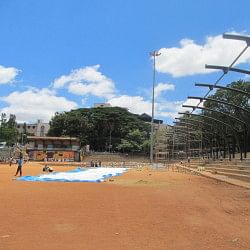 Malleswaram's ground — situated between 5th and 7th cross opposite K C General Hospital where covered stands are being constructed for spectators.
So, do you support marks for sports in schools?
Yes. As of now, the education/school system discourages sports. In India's education system, it is always academics, academics, academics – no sports. Ultimately this is not good for our country. It's not as if India is doing great in academics!
Apart from being an MLA, do you hold any other administrative post in the sports sector?
I have held honorary posts in local clubs. I am also the senior Vice President of the Karnataka Athletic Association. My first focus is performing my responsibility as an MLA. One man trying too many things is also not justifiable. Leadership is also about encouraging others to take responsibility.
Republished with permission from sportskeeda.com. The original post can be found here.